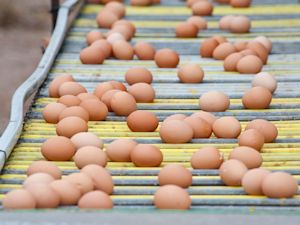 Paul de Nil mentions another benefit.
Bengalese tend to settle in their boxes to roost quite early. This means a long night for chicks.
When Bengalese are used to an evening feed they come out to eat. So, the chicks get a later and extra feed than they would have otherwise.
'Battery hen syndrome'
Overfeeding the mix can lead to 'battery-hen' syndrome. Eggs are laid every two or three days. Fertility is poor and sitting is irregular.
Stopping such a hen isn't easy. Most would separate the pair with a wire divider (not easy in my setup). Separating the birds out of sight of each other stresses them badly. Moving the pair to a small cage seems less stressful.
One hen laid 34 eggs in 99 days. Only 9 were successfully foster-reared (24%). Others were infertile or addled.
That this hen remained alive and well would suggest the eggfood mix delivers enough calcium, but, please try not to overdo the mix.
Note that too much livefood to pairs without chicks can also induce 'battery-hen syndrome'.